Commercial Shade Solutions for Restaurants
ShadePro is a leading expert in outdoor comfort solutions for restaurants, providing custom-built permanent shades that meet building codes with 90 mph wind ratings.
Our team has over 50 years of combined experience in the industry, ensuring every product meets exact standards for quality and reliability supported by an unbeatable customer service guarantee. From start to finish, you can trust us as your turnkey partner toward making any space a comfortable oasis from sun or rain.
Crafting Quality Shades at ShadePro
A business established by Texans for Texans, ShadePro has grown exponentially since 2004 due to its commitment to providing superior customer service while delivering unrivaled products made from world-class design teams. As local professionals passionate about protecting what matters most—their clients' assets—the team continuously works hard toward pushing boundaries within projects they take part in throughout every stage of production.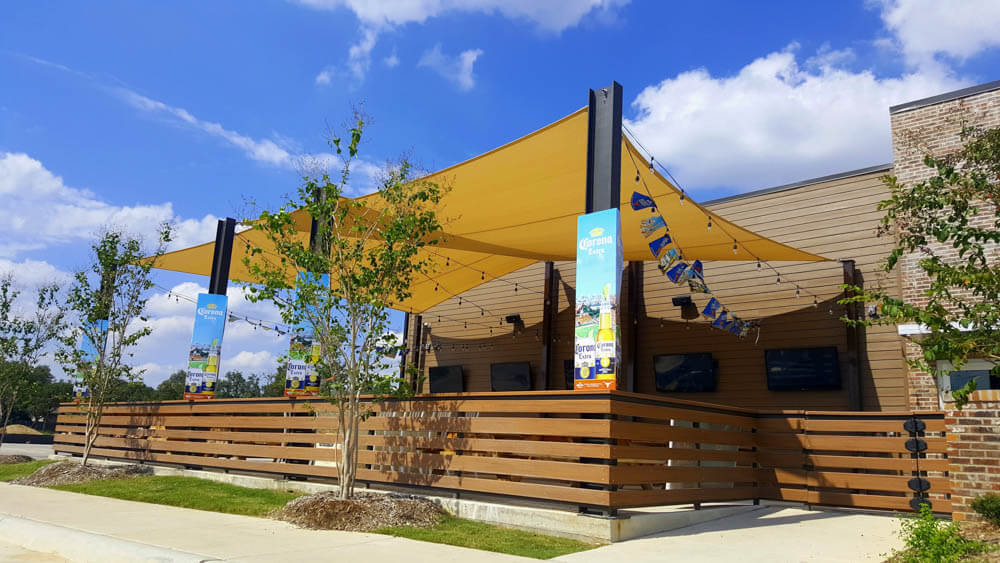 Protect Your Outdoor Dining Space
ShadePro is the ideal choice for any restaurateur looking to make outdoor dining enjoyable and safe. With our extensive range of shade structures, we guarantee excellence in providing a seamless blend of comfort, style, and protection from harmful UV rays.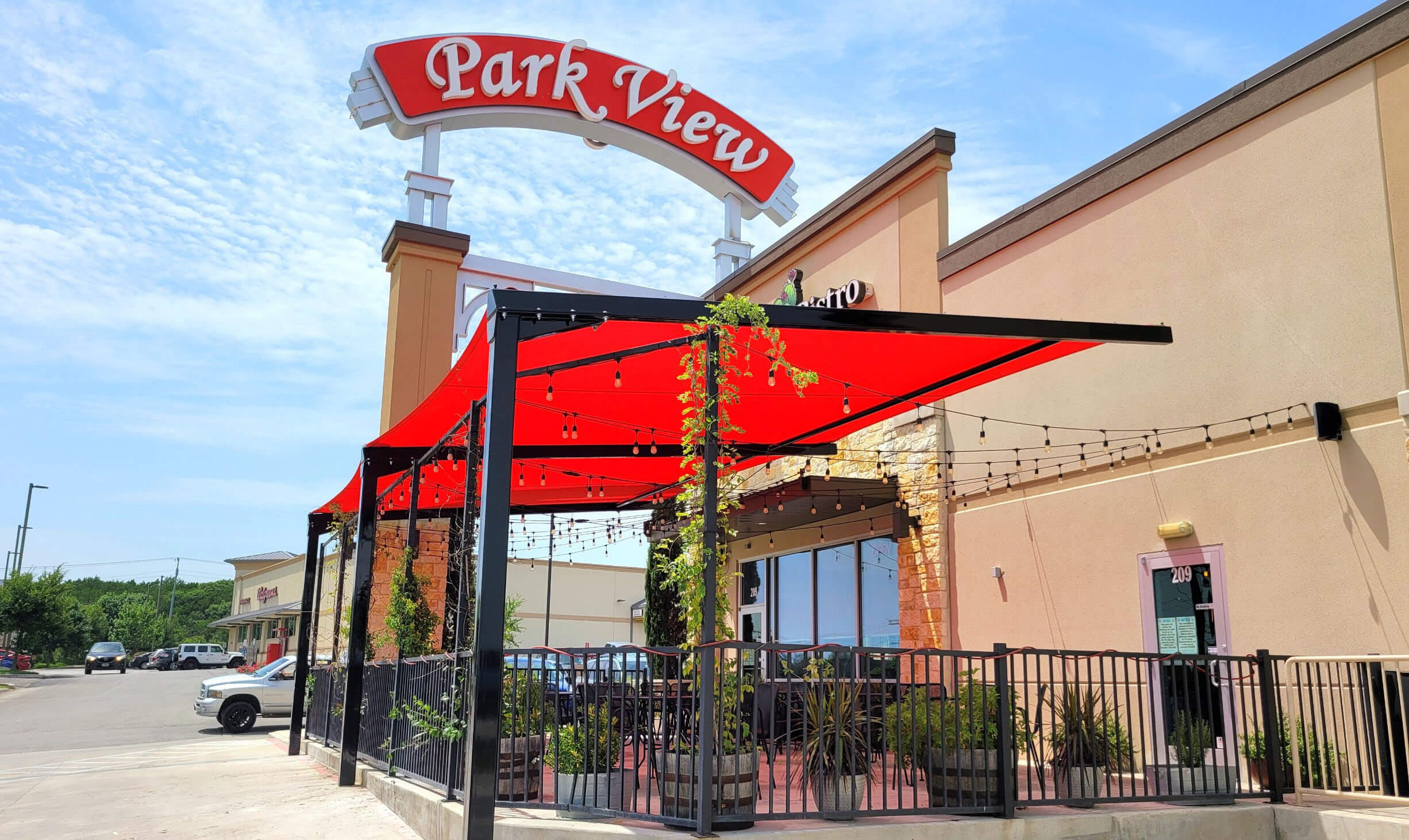 Tailored Solutions for Restaurants
ShadePro provides an extensive range of commercial shade solutions that specifically cater to unique needs in restaurants. We understand how vital it is to create inviting and comfortable settings for customers, regardless of whether they're located at a cafe, bistro, or larger establishment.
Our shades are designed not only to enhance the ambiance but also offer a higher degree of functionality, such as UV protection, along with customizable colors so patrons can experience an optimal atmosphere while dining.
Transforming Outdoor Spaces for Restaurants
With decades of expertise in designing customized shades to suit any space or style requirement, ShadePro guarantees top-notch craftsmanship that adds value to your venue by increasing customer satisfaction indoors and outdoors!
Functional Enhancement and Curb Appeal
ShadePro's commercial sun shades add value and style to restaurants' patios or terrace spaces with durable, long-lasting protection for year-round enjoyment, creating the perfect setting for customers to relax in while experiencing a sophisticated atmosphere created by professional design solutions rounded off with guaranteed quality materials & craftsmanship.
Revenue Boost through Customer Attraction
On warm days, shaded outdoor seating provides a haven from the sun that keeps customers cool and comfortable. This type of setting is sure to draw in patrons looking for an enjoyable dining experience with views while being shielded from UV radiation. Shady spots will likely entice visitors into extending their stay, resulting in increased sales and improved customer satisfaction.
Maximizing Usable Space and Comfort
Our permanent restaurant patio sunshade structures are designed to expand your seating capacity and enhance the dining experience. Our fabric shades shield patrons from UV rays and block extreme weather conditions while allowing for comfortable airflow under breathable structures. Allowing you to stretch beyond the confines of indoor space, making outdoor areas more enjoyable.
Customizable Outdoor Dining Solutions from ShadePro
ShadePro provides restaurant owners with the perfect solution for outdoor dining. Our range of versatile models offers customizable options that expand seating capacity while providing guests with a unique and comfortable experience in any setting, from stylish cafe umbrellas to larger shade structures built for longevity. Put your trust in us: we'll help you create the ideal atmosphere outdoors!
Pergolas and Pavilion Shades
Restaurant proprietors seeking to upgrade their outdoor dining space should consider Pergolas and Pavilion Shades. With an elegant design, partial shade offered for comfortable open-air meals, and customization options that harmoniously integrate furniture, tables, and umbrellas into the structure, these are perfect creations to bring sophistication to any al fresco setting.
Retractable Awnings
Retractable awnings are an excellent choice for restaurant managers seeking flexible solutions to provide shade and maximize their outdoor space. Easily adjusting with the weather or time of day, these adjustable shades give diners control over daylight exposure while allowing them to enjoy meals outdoors.
Shade Sails
Shade sails are the ideal choice for restaurant owners looking to create a modern and stylish dining atmosphere. With flexible design options, they offer protection from the sun while adding an artistic appeal with diverse shapes, sizes, and colors.
Cantilever Umbrellas and Structures
Our cantilever umbrellas and structures provide a convenient, adjustable shade solution for outdoor dining areas. With various sizes and designs available, these can be tailored to fit the specific layout of your restaurant. Our products will add comfort while enhancing their visual appeal effortlessly!
Benefits of ShadePro's Shade Structures for Restaurants

Enhanced Customer Experience
Enjoy your outdoor dining experience in comfort and style with our selection of shades. Our thoughtful, sun-shielding designs ensure patrons can savor their meals without worrying about UV rays or the weather, encouraging longer stays and repeat visits to your establishment.

Aesthetic Appeal
Experience the best of both worlds with our shades that combine protection and aesthetics. Enjoy an enhanced atmosphere for your restaurant's outdoor area without compromising its visual appeal, thanks to our stylish and versatile shade structures that fit effortlessly into any theme or design.

Weather Resistance and Durability
ShadePro's shades offer reliable protection from wind and other weather conditions. Our superior engineering provides maximum longevity, reducing the need for maintenance to a minimum. With our robust design exceeding industry standards, you can be sure your restaurant will have dependable protection.

Customization Options
We offer a range of sizes, colors, and designs to create tailor-made shades that reflect your brand and ambiance. Let us help you find the perfect atmosphere for your restaurant through our customizable options. With years of experience in marketing, we guarantee it's an unbeatable choice!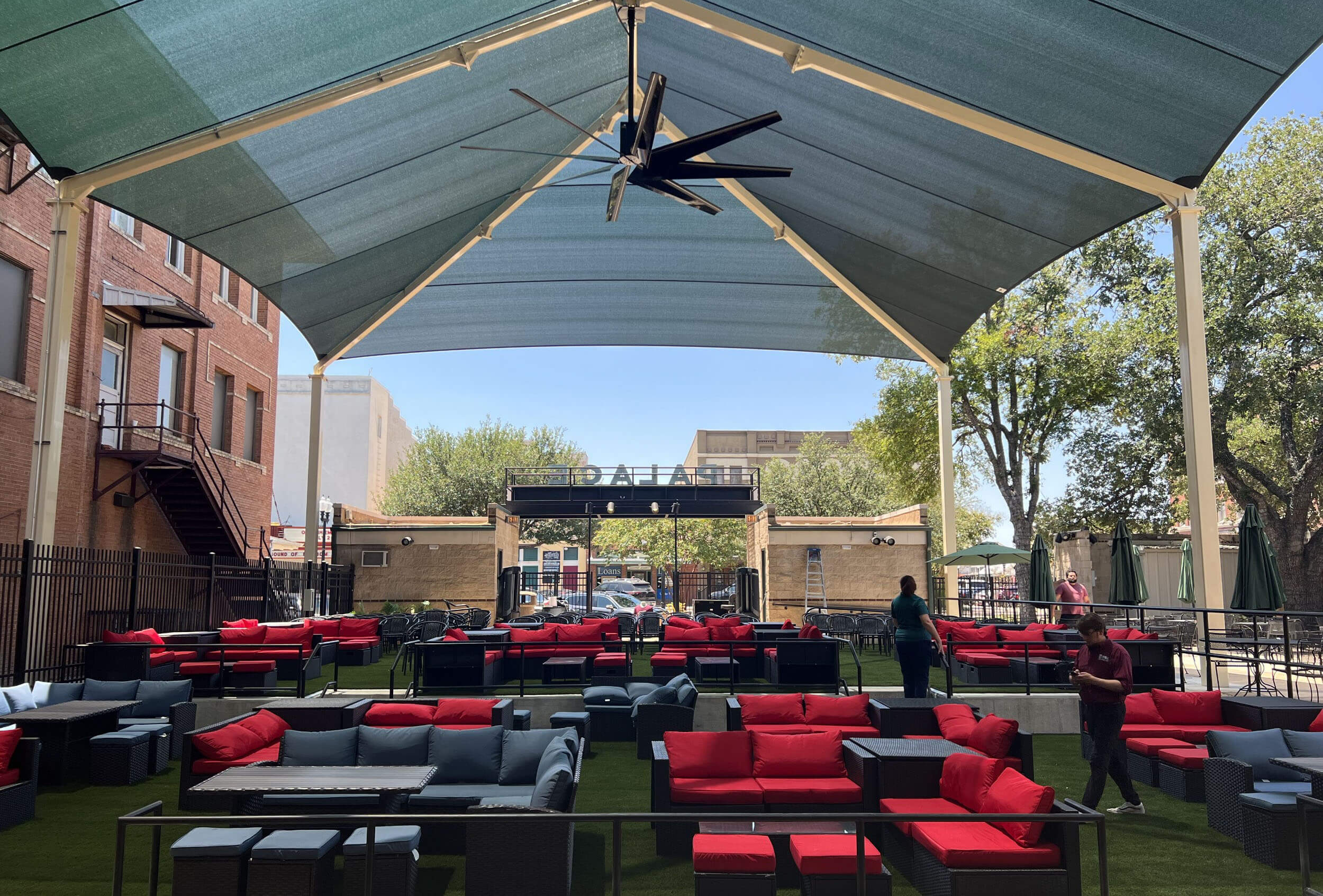 Partner with ShadePro for Unmatched Quality and Service
At ShadePro, we are dedicated to creating customized shading solutions for restaurants that meet your needs. Our expert team is with you from the initial consultation through installation, making sure you get a high-quality shade solution perfectly tailored to the vision of your restaurant.
Get in touch today and let us help elevate your outdoor dining area into an inviting space protected by our top-notch shades!