The Types of Shade Structures We Install
Outdoor Sun Shade Structures
Are you tired of the oppressive heat ruining your outdoor experiences? Do you long for a space that seamlessly combines comfort, style, and protection from harmful UV rays? Look no further than ShadePro, an industry leader in high-quality shade structures in the state of Texas. With our extensive range of shade types and unwavering commitment to excellence, we are dedicated to providing the perfect solution to meet your unique outdoor needs. Discover the unparalleled value of investing in our shade structures and elevate your outdoor space into a haven of comfort, aesthetics, and sun protection.
Cantilever Shade Structures: Hip and Pyramid
Experience the epitome of versatility and contemporary design with our cantilever shade structures. Our hip and pyramid styles help maximize coverage with fewer columns while offering a natural, uniform pitch. These structures are perfect for enhancing outdoor seating areas, poolside lounges, or any space that demands a touch of modern sophistication. They're also an ideal solution for vehicle parking.
4-Post Shade Structures: Hip and Pyramid
Our 4-post shade structures seamlessly blend style and functionality for those seeking a more classic look. Crafted with durable construction and an elegant design, they are an excellent choice for parks, playgrounds, and other recreational areas. Available in hip and pyramid styles, our 4-post structures can be customized to harmonize with your outdoor environment effortlessly.
Cantilever Umbrella
Unleash the best of both worlds with our cantilever umbrella shade structure. This innovative option merges the convenience of a traditional umbrella with the stability and durability of a cantilever structure. Ideal for smaller spaces or intimate settings, the cantilever umbrella delivers ample shade while adding a touch of sophistication to any outdoor area by using just one column.
Cantilever Shade Structures
Indulge in the captivating allure of our curved and sloped cantilever shade structures, which create stunning architectural statements. These unique designs infuse any outdoor space with contemporary artistry. Whether you desire to cover a patio, walkway, pool deck, bleachers, or seating area, our curved and sloped structures offer exceptional shade coverage while emanating an air of elegance.
Sails: Triangle and Interlocking
Embrace the beauty of simplicity with our sail shade structures. The triangle and interlocking sail designs present stylish, minimalist solutions for expansive shading areas. Clean lines and a modern aesthetic make these structures a popular choice for parks, schools, and commercial spaces. Not only do they provide eye-catching focal points, but they also shield you from the sun's rays, allowing you to enjoy the outdoors in comfort.
Superstructures
When it comes to delivering extensive shade coverage for larger areas, our superstructures are unrivaled. Engineered with precision and designed to impress, these shade structures offer unparalleled protection and durability. Perfect for stadiums, basketball courts, outdoor venues, and expansive commercial spaces, our superstructures ensure that everyone remains cool and comfortable even during the hottest days.
RV Shade Structures
For outdoor enthusiasts and avid travelers, ShadePro offers specially designed shade structures for RVs. Protect your valuable investment from the sun's damaging effects and create a comfortable outdoor space for your RV. Our RV shade structures help maximize coverage while offering an aesthetic look that allows for fewer columns than a traditional RV metal carport.
Why Should You Invest in Outdoor Sun Shade Structures?
Enjoy a comfortable outdoor living experience with shaded areas that provide respite from the intense heat.
Protect your skin from harmful UV rays.
Benefit from energy efficiency by reducing direct sun exposure and lowering cooling costs.
Enhance the aesthetics of your outdoor space with beautifully designed shade structures that complement your existing architecture and landscaping.
Increase the value of your property with the addition of functional and visually appealing shade solutions.
Discover the ShadePro Difference
Uncompromising Quality
At ShadePro, we take immense pride in delivering shade structures of the highest quality. Our products are meticulously engineered to meet or exceed building codes, ensuring the utmost safety and durability. With a minimum 90 mph wind rating, our shade structures can withstand even the harshest weather conditions, providing you with peace of mind and long-lasting shade solutions.
Expertise and Experience
With over 50 years of combined experience in the shade industry and nearly 20 years in business, ShadePro is a trusted name you can rely on. Our team of experts possesses extensive knowledge and expertise, allowing us to guide you through the entire process, from design to installation. We understand the unique challenges of creating shade in outdoor spaces and are committed to finding the perfect solution for your specific requirements.
Customization Options
We believe that every outdoor space is unique, and customization is the key to achieving the perfect shade solution. At ShadePro, we offer a wide range of styles, designs, and custom sizes. From selecting the size and shape of your shade structure to choosing the color of the steel finish and fabric, you have the freedom to create a shade solution that perfectly complements your style and enhances your outdoor environment.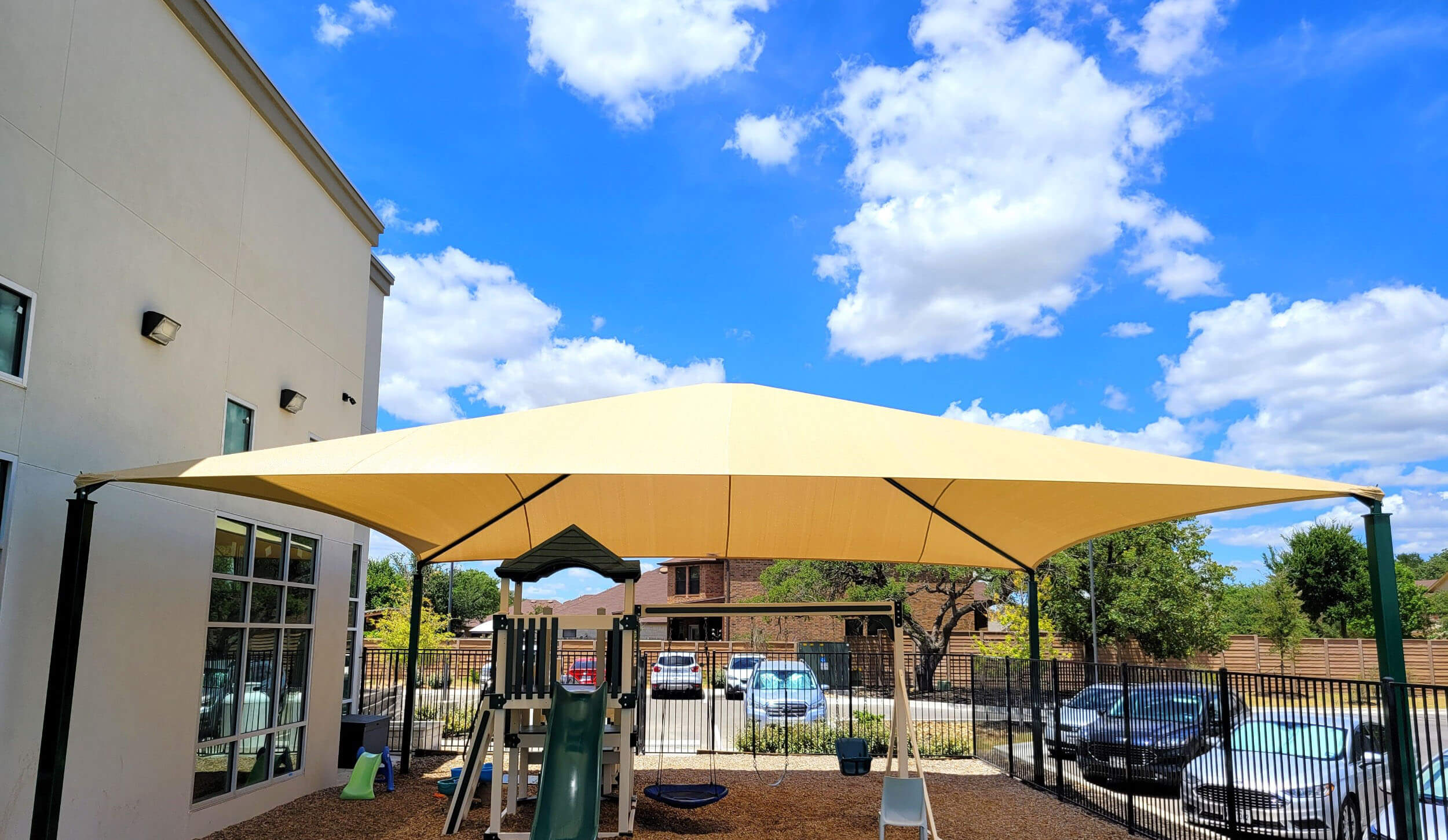 Invest in Unparalleled Outdoor Sun Shade Structures Today!
Don't let the sun dictate your outdoor experiences. With ShadePro's high-quality shade structures, you can create a comfortable and inviting space that shields you and your loved ones from harmful UV rays. Whether you are seeking a contemporary cantilever structure, a classic 4-post design, or a minimalist sail shade, ShadePro has the perfect solution to meet your unique needs.
Choose ShadePro and embark on a transformational journey for your outdoor space. Contact us today to discover the endless possibilities of superior shade and elevate your outdoor experience to new heights!