Commercial Shade Solutions for
Veterinary Clinics, Dog Parks, & Boarding Facilities
Discover top-tier commercial shade solutions with ShadePro, your premier destination for durable and aesthetically pleasing permanent structures tailored to veterinary clinics, dog parks, and boarding facilities in Texas and the lower 48 states.
Craftsmanship & Reliability
Since 2004, ShadePro has been the go-to source for reliable and top-of-the-line shade solutions. Our headquarters are located in Texas with wide availability throughout Amarillo, Lubbock, Dallas/Fort Worth area (DFW), Austin, and San Antonio regions.
We guarantee safety for our clients through wind engineering that confirms our structures meet 90 mph ratings against severe weather conditions according to local building codes – allowing you peace of mind as you enjoy your protected space from relentless sun exposure!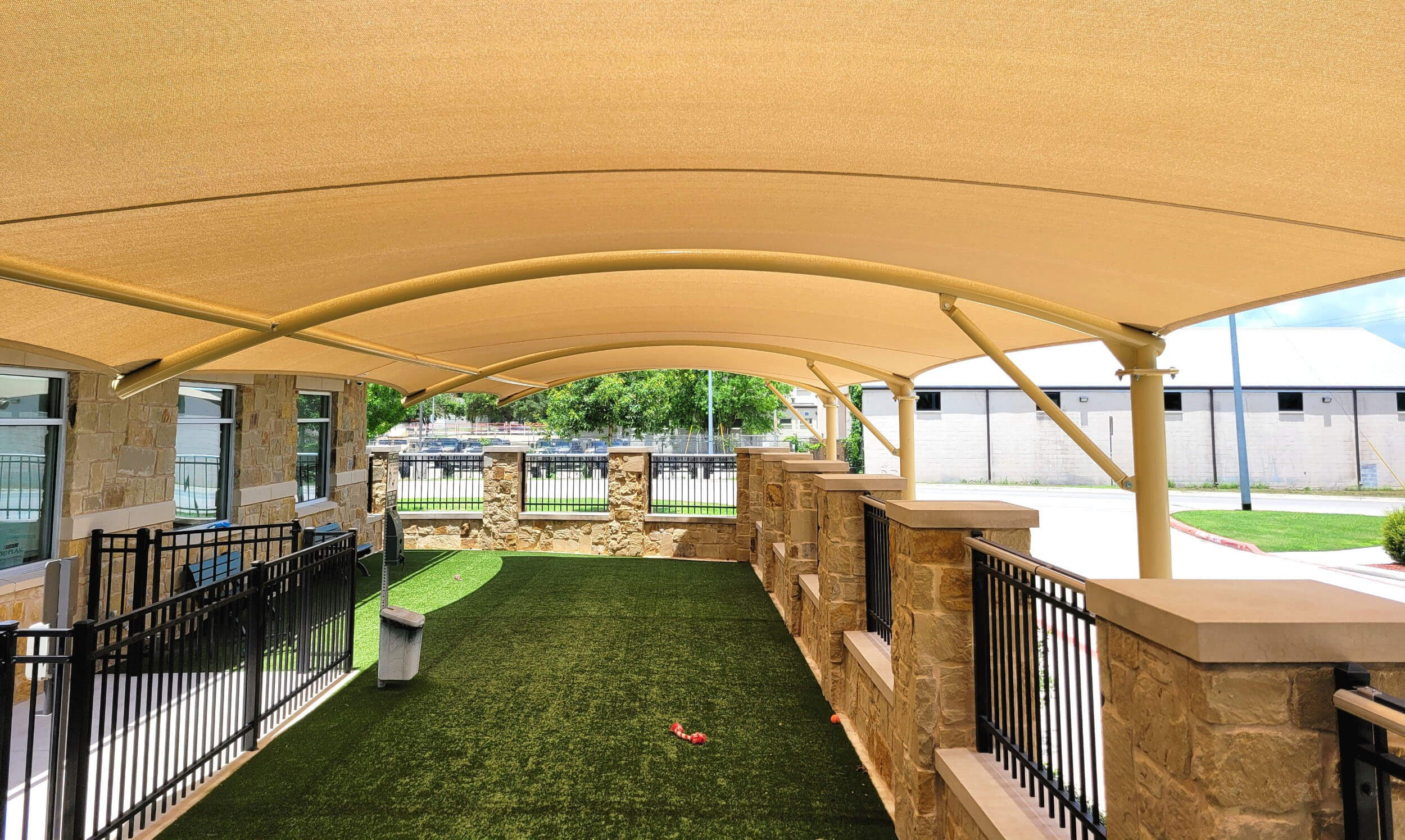 Enhance Outdoor Spaces with ShadePro's Sun Shade Structures
Experience complete sun protection and comfort with ShadePro! Our stylish designs combine quality materials with expert manufacturing for superior outdoor refuge from direct sunlight. Enjoy the peace of mind that comes with knowing you chose the best option to enhance your environment while relaxing in total safety.
Uncompromising Quality
ShadePro is committed to excellence in engineering high-quality products that meet strict safety standards with wind resistance up to 90 mph for maximum endurance. Choose our wide selection of stylish and durable shade solutions to effortlessly plan your commercial area. Enjoy long-term financial benefits today!
Expertise and Experience
Since 2004, ShadePro has been providing custom-fit solutions that bring peace of mind and lasting results to any outdoor space. Our knowledgeable professionals utilize 50 years of collective experience to deliver reliable results that last. With our expertise and diligence, you can be sure that every challenge will be addressed, ensuring successful outcomes each time. Let us bring your space unparalleled shade protection today!
Customization Options
Our broad range of customization options and superior-quality materials make it easy to create the perfect personalized look for your environment. Enjoy a tailored and unique shade solution with our extensive range of styles, designs, colors, and sizes. Make your space perfect for all expectations!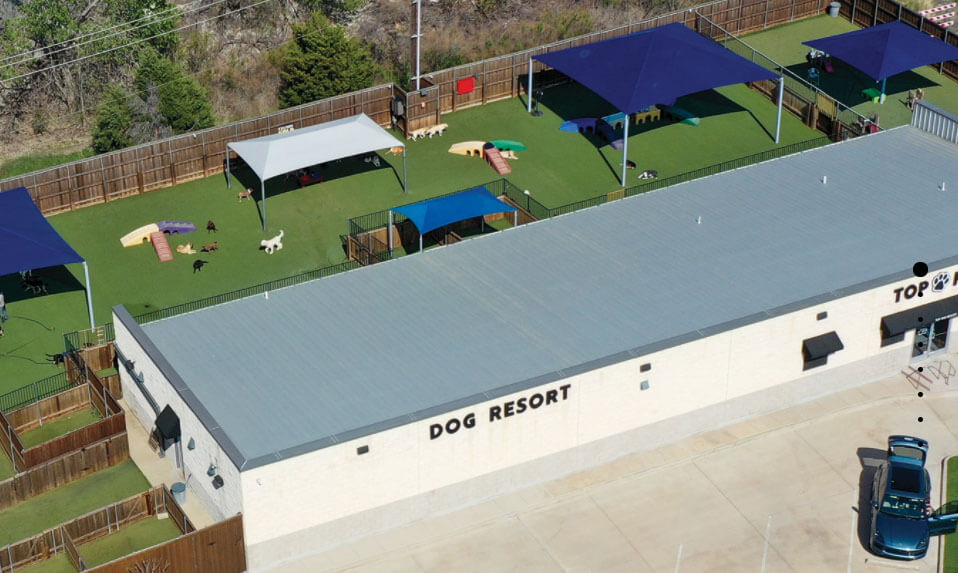 Custom Shade Solutions for Your Business
ShadePro offers the perfect outdoor experience, with custom-designed structures to provide comfort and aesthetics. From sheltered waiting areas to pet playgrounds, we have an expansive selection tailored precisely according to individual needs for absolute safety. With over 50 years of collective experience in commercial shade solutions, ShadePro is a reliable provider you can trust!
Shade Structures by ShadePro
At ShadePro, we specialize in creating custom-crafted shade structures that blend seamlessly with the existing architecture. Our seasoned team of professionals is committed to ensuring your vet clinic or dog park remains a comfortable and inviting place for all visitors. Contact us today for more information about our services!
Square and Rectangle Shade Structures
Our square and rectangle shade solutions are designed for simplicity, cost-effectiveness, and versatility. Perfectly suited to any area within your dog park, from the playground to seating zones, they add cool comfort for both canines and their owners.
Cantilever Shade Structures
Our cantilever shade structures provide a spacious and sheltered environment, perfect for letting pets roam free. Two unobtrusive columns support the large shade cover without sacrificing enough space on the ground below. Let your furry friends enjoy plenty of room to play in comfort!
Single-Post Shade Structures
Our robust single-post shade structures offer an ideal long-term solution for adding visual appeal and functionality to your dog park. Choose from our variety of designs, providing ample shading to both pets and owners while enduring wear over time. Bring a touch of beauty that can last for years!
Custom Shade Structures
Our experienced professionals collaborate with you from start to finish so we can craft the perfect combination of size, shape, color, and more before it's installed at your property. With us on hand for project support, every step of the way, rest easy knowing you have shelter that is uniquely yours!
Benefits of Shade Structures
We provide veterinary clinics, dog parks, and boarding facilities with shade structures that ensure pet comfort and extended enjoyment for both pets and their owners.
Enhanced Canine Well-being: Shade structures help dogs cool off faster, protect their paws from hot surfaces, prevent sunburn for short-haired breeds, and offer increased roaming space, allowing them to explore comfortably.
Extended Stay for Visitors: Visitors, particularly pet owners, benefit from prolonged stays as the shaded areas provide relief from the sun's intensity. This extended time promotes better exercise for pets and an enjoyable experience for all.
Improved Outdoor Enjoyment: By offering shaded spots, ShadePro's structures enhance outdoor experiences, enabling longer and more engaging visits for both pets and their human companions.
Durability. Guidance. Customization. Quality.
Why Choose ShadePro for Your Commercial Shade Solutions?
R

Exceptional Durability: Our shade structures are built to withstand the toughest weather conditions, ensuring longevity and reliability.

R

Expert Guidance: Benefit from our team's vast expertise in the shade industry, guiding you through the entire process, from design to installation.

R

Customization: Tailor your shade structure to suit your aesthetic preferences and specific space requirements.

R

Quality Assurance: We assure the highest quality, adhering to strict building codes and safety standards.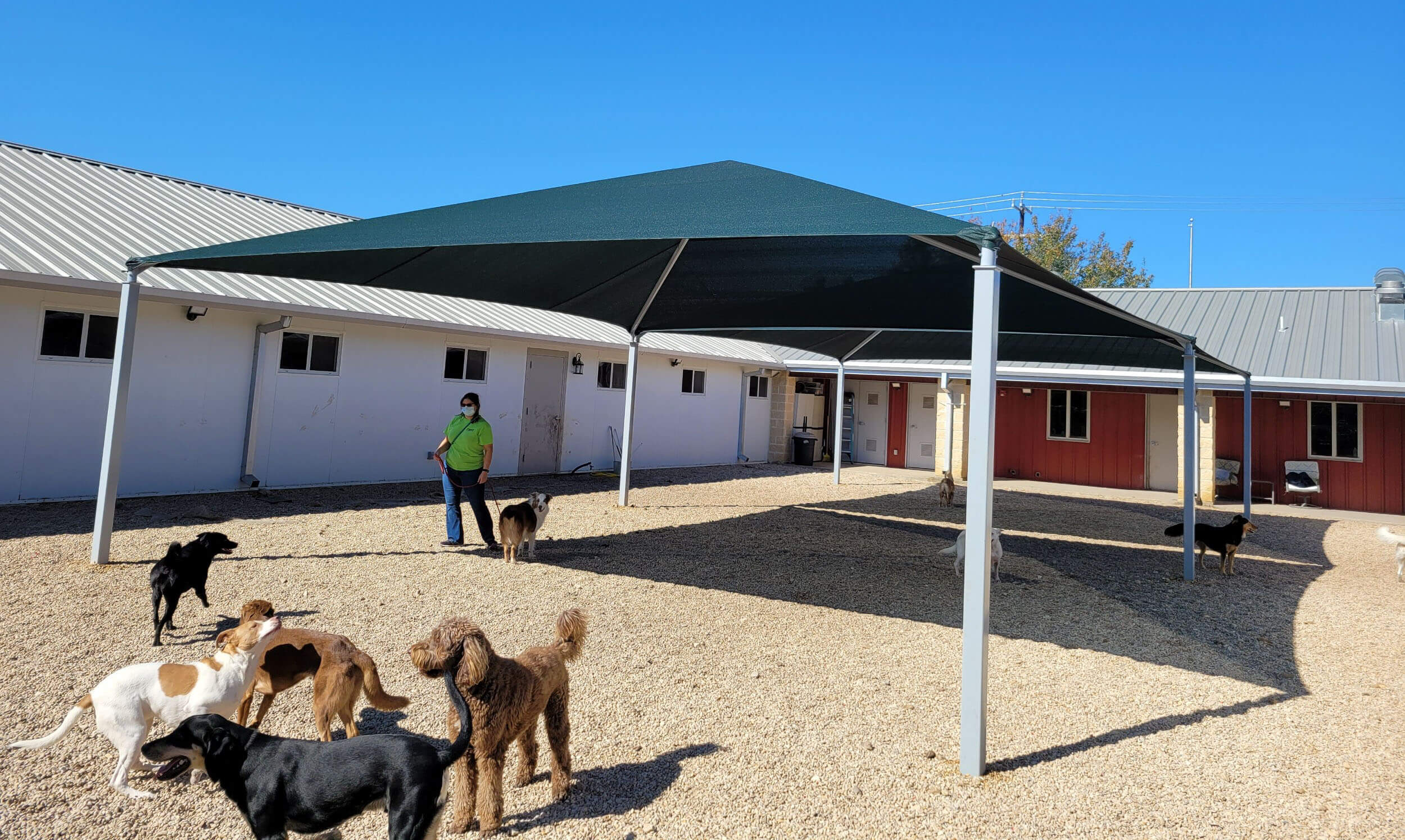 Partner with ShadePro for Enhanced Comfort & Safety
ShadePro offers veterinarians, dog park owners, and boarding facilities superior sun protection through exceptional custom-made shade structures. Our designs create the perfect outdoor atmosphere while blocking harmful UV radiation – all tailored to meet your requirements for optimal use of space.
Reach out today to learn how we can bring your outside space up to the next level!